High Performance Battery Chargers & Accessories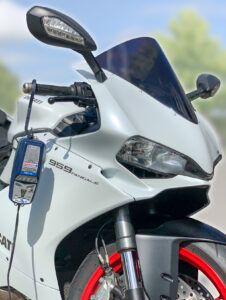 Since 1994 TecMate International has designed and manufactured professional battery chargers, testers and other diagnostic tools for the motorcycle, motorsport and leisure (marine / recreational) industry. TecMate's premium battery charger brand, OptiMate, is trusted by over 15 major vehicle & performance battery OEMs and millions of happy vehicle / craft / equipment owners world-wide, not only for OptiMate's unmatched reliability, but also for its unique performance features, including Ampmatic current control that adjusts charge rate to battery size, and condition, 24-7 'connect and forget' maintenance and a unique battery saving method able to recover neglected batteries from a deep discharged state.
The OptiMate Battery Charger range includes on-grid (100-240V 50/60Hz) and off-grid (solar, DC-DC) models.
The OptiMate Accessories and Ware range include battery testers, USB charger products, cables and promotional ware.
About TecMate Japan Co., Ltd
TecMate Japan was formed in 2021 to better serve Japan and wider Pacific region.
| | |
| --- | --- |
| Establishment: | 22nd, April 2021 |
| Address: | 5-8-6 Shimosato, Higashikurume-shi Tokyo, Japan |
| TEL: | 042-430-9522 |
| Email: | info@tecmate.co.jp |
| Representative: | Kazuhisa Iwabuchi |
| Banks: | Tama Shinyokinko Bank, Higashikurume branch |
| | Mizuho Bank, Higashikurume branch |
| | SBI Bank |
| | Rakuten Bank |